1314T2g1 South Korea/Participant Information/Jeremy Zhong Jiahao/PreTrip
From IS427
Navigation
Our Companies
Jeremy's Reflection
Jieting's Reflection
Overview
I'm pretty sure this would be awesome and trip and wouldn't want to forget the entire planning process. Will be documenting them down here. Well, hopefully this would also be of some help to Juniors that would be taking this course in the future.

Check out What I've learnt from companies here !
Week 1 - Course Introduction & Overview
It was a rather relaxed lesson. All of us knew one another and we were occupied only the right side (don't ask me why) of the room and chit-chatting away!

Prof Ben gave in and gave us a quick introduction to the course, the course objective and gearing us up for the enjoyable & enlightening journey ahead of us, technopreneurs.
Japan
One of the biggest surprise was that Prof Ben mentioned we would also be, visiting Japan! Amazing! Two trips in one. More countries, more opportunities to learn more from successful entrepreneurs. Yeah, let's go!
Team & Companies
After running through the grading breakdown, we were tasked to choose our own team and choose 2 companies! Jieting's my partner and our initial two (Japanese) companies were Wantedly and Brackets - both of which are amazingly established companies.
Photos
After break, we gathered to snap individual photos and a group shot to be uploaded on wiki.
My Role
Wiki Editor. Yes, that means making this pretty, alongside with Viet, Rachel and Jieting whom are really pleasant to work with (thus far).
Favourite Quote
A very simple quote from Prof Ben, "Work hard, but have fun!". Yes, indeed.
Closing Thoughts
The entire atmosphere was filled with fun and laughter, especially with Agurz around, bringing all the HEHE HAHA everywhere. Really looking forward to the trip with all these people. Well, for now, will be working very hard with Jieting to contact companies. Accept us, please! :}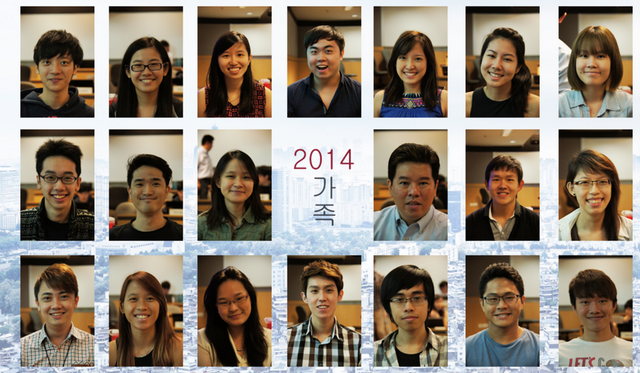 Week 2 - Seniors Sharing Session
Lots of interesting events took place today. Let's summarise them!


Seniors Sharing Session
Our seniors (Jocelyn, Wahchun, Melissa, Clinston) were invited to share their experiences in TSM. Some of the biggest takeaways like how much to bring, what to expect when you intern there, and all their internship experiences!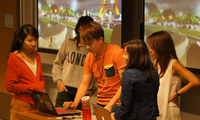 Trip Planning
The fun & entertainment + itinerary team did a great job in coming up with a lot of interesting places to visit! But, there's only so much time that we could play with. We eventually had to vote for places.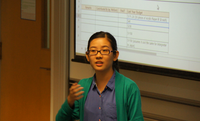 Finance (Budget)
Jieting, our Finance-in-charge, presented the budget to us. I was the helper for Budget and god, there's really a lot to account for. Thankfully, Jieting was meticulous and got most of the matters settled.
Decision on Logo
Our amazingly talented designers created in total, 4 logos. We had to settle on one and it was an extremely tough call - everyone of them looks great.

Company Planning
We were advised by Prof Ben to email our companies tactfully and make sure we triple check before sending any emails. Told us to be fast too!

Ok, let's go! Time to contact our companies!
Week 3 to 5 - Sourcing of Companies
These few weeks were all contacting and taking actions based on the response of our companies.
Updates from Brackets
Well, in fact. There weren't any response from them for 2 weeks. Sigh, we knew we had to find other companies. We tried other well known Japanese Incubators but there were no response too :(
Updates from Wantedly
Fortunately, Nozomi from Wantedly, responded to us. And it was a pleasurable one. No wait, an AWESOME one.

She was willing to go the extra mile to help us to liaise with other Japan companies that they have affiliation with!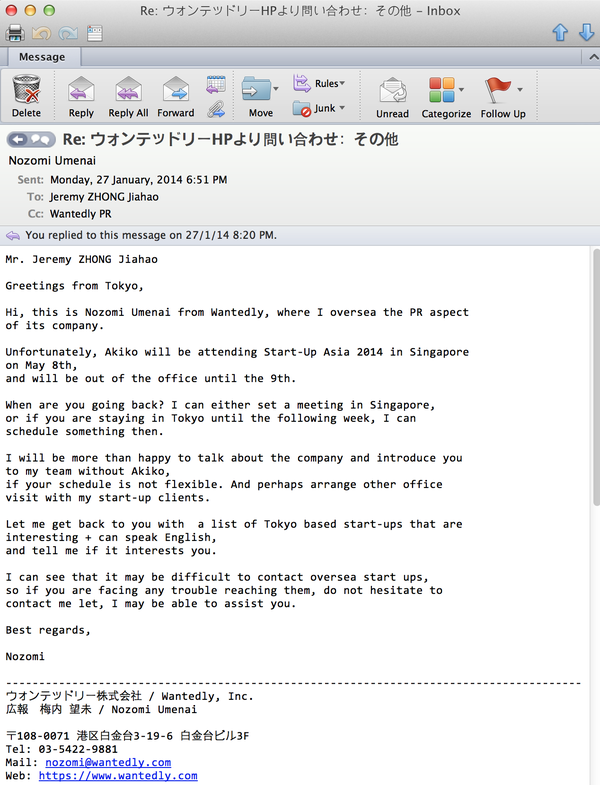 Nozomi-san was such a pleasant lady to liaise with and we exchanged over 26 emails!



To summarise the entire 26 conversation:

She proposed we sign up for a one-day event, titled "Open Company" that Wantedly had organised. Basically, we would be visiting 5 companies in one day. It's SGD $62/pax. That includes bus journey and translator (which would be Nozomi + Sayo (Their Sales Representative)). What an awesome deal eh? Took it up to Prof Ben and it seems like we're pretty interested in it. Let's discuss it over meal!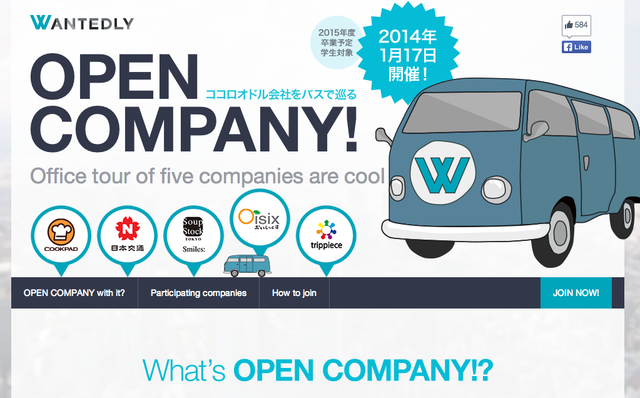 More information on Open Company: https://www.wantedly.com/campaign/open_company


Naka Akiko's Absence
Another thing to note is the CEO's (Naka Akiko) Absence. She would not be present with us when we visit Wantedly as she would be on a entrepreneur startup talk. Yup, that's right. Further inspiring others!
Week 6 - Mid-Terms Bonding Session
It's week 6 - 3 weeks since we contacted our companies and we were told to give an update on our company status. But hey, not at a Seminar Room. That's too mainstream for us.

We discussed over at Crossing Cafe. The final conclusion was to proceed with the Open Company event. This decision was great as we would also be helping Eleazar, Nicholas, Xiangrui and Janan secure a company (that did not respond to their email) for them to conduct research on.

Took a family photo and left to liaise with Nozomi right away!


Week 7 to 11 - Liaison & Research
Alright, quickly got onto my keyboard and liaised with Nozomi-san right away on the Open Company event. Only 1 out of 5 companies are confirmed - Wantedly. We needed 4 more!

Right away we recommended to Nozomi-san that we were interested in. Unfortunately, they were either uncontactable or turned us down.

After days and days of liaising, Nozomi-san finally replied with a list of companies! YAY! I could see that she took A LOT of effort to liaise with tons of companies and eventually settled down on these:
| Company | Team-In-Charge |
| --- | --- |
| Wantedly | Jieting & Jeremy |
| Trippiece | Jieting & Jeremy |
| Freakout | Eleazar & Nicholas |
| Hachimenroppi | Elezar & Nicholas |
| United JP | Xiangrui & Janan |
Japanese Students
Nozomi-san also mentioned that they would be recruiting Japanese students to join us! Prof Ben said this would be a great opportunity for us to mingle around with them, and even learn their culture.

She even created a website about us, to recruit Japanese Students:



More Information: https://www.wantedly.com/campaign/singapore_open_company

Company Research
This portion's a lil tough. Some groups only have one company to research on. We have two. Agreed to split the job with Jieting. Jieting would research on Trippiece while I focused on Wantedly - it turned out great!

Here are the research that we've gotten:

And here's our presentation slides!

Well, that's about it! Glad that the liaison went smoothly and we're all ready to present, on Week 12!


Week 12 - Company Presentation
This week's solely focused on presentation and a lil rounding up between the big tour ahead! Learnt a lot and felt that there were a few companies that I'm extremely interested in.
United from Team YOUTIAO - They're in a lot of competitive niches and are extremely successful! Xiangrui & Janan did a great job taking us through their business model.
Smart Education from Team OISHI! - It's interesting how they somewhat read the minds of kids, in order to deliver games that would like to play. Installed it and gave it a shot. Not my cup of tea but jesus they sure have lots of downloads man! Wanna chefk it out what they have to say
BnBHero from Team TAGTEAM - Yeah as mentioned, loved the concept. Looking forward to see how they actually out stand the huge competition in that niche.
And more...
Special Guest
Oh and wait, we have a special guest that joined us through the presentation - CEO of BhBHero, Mr Park YongSoon. An extremely nice chap.

Looking Forward
Alright, that marks the end of our preparation. Looking forward to gearing up and having an extremely fun trip with the rest!

Let's go! Chicken and Beer :D